Smelter Ovens in San Emigdio Canyon
(29th November 2012)
I'm wondering if these old smelters are in any way connected to the early Spanish (or Mexican) mining activities taking place during the mission era. There is evidence for two early mines in this area, one a silver mine and the other an antimony mine. They started the legend of the "Lost Padre Mine" popularized in newspapers such as the Ventura Signal starting in 1871.
The San Emigdio Canyon was first prospected by the Spanish for minerals in August 1790. There was a later expedition in August 1806 when San Emigdio Canyon was named (before this it was known as the Canyon of the Dead). We know this early silver mine was operating during the widespread Indian revolt of 1824 when the mine was temporarily closed and concealed. Evidence suggests this mine was in operation roughly between 1824 and 1828. Mexico was in control of California by this time but had not yet expelled the Spanish-born priests or confiscated all the Spanish missions in California.
In October 1832, the famed trapper, Ewing Young, and three other men discovered old smelting ovens in lower San Emigdio Canyon near the pre-history, Indian village of Tashlipun. The smelters were assumed to be of Spanish origin.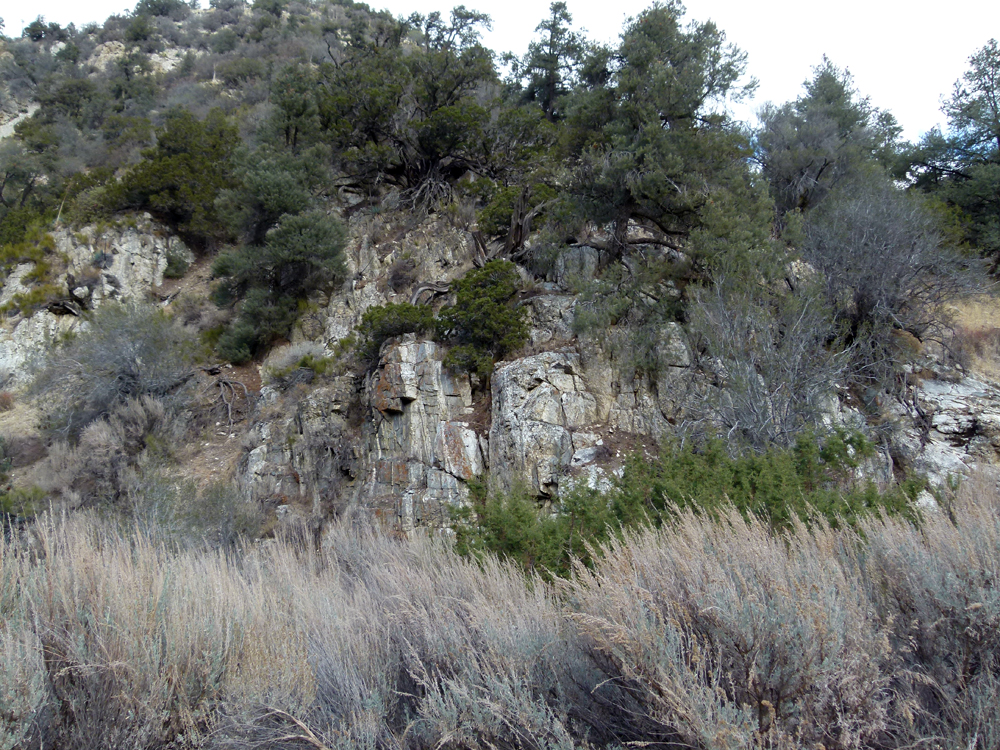 There are old smelter ovens concealed by bushes near the base of this small spur. The smelters and related infrastructure are difficult to see until you are virtually standing on top of them. They were used to concentrate antimony and other metals. The location is close to the mouth of a gully that provided the easiest natural path down from Antimony Peak (6,848 feet). The GPS coordinates for this location are 34 degrees 52' 48", –119 degrees 8' 6"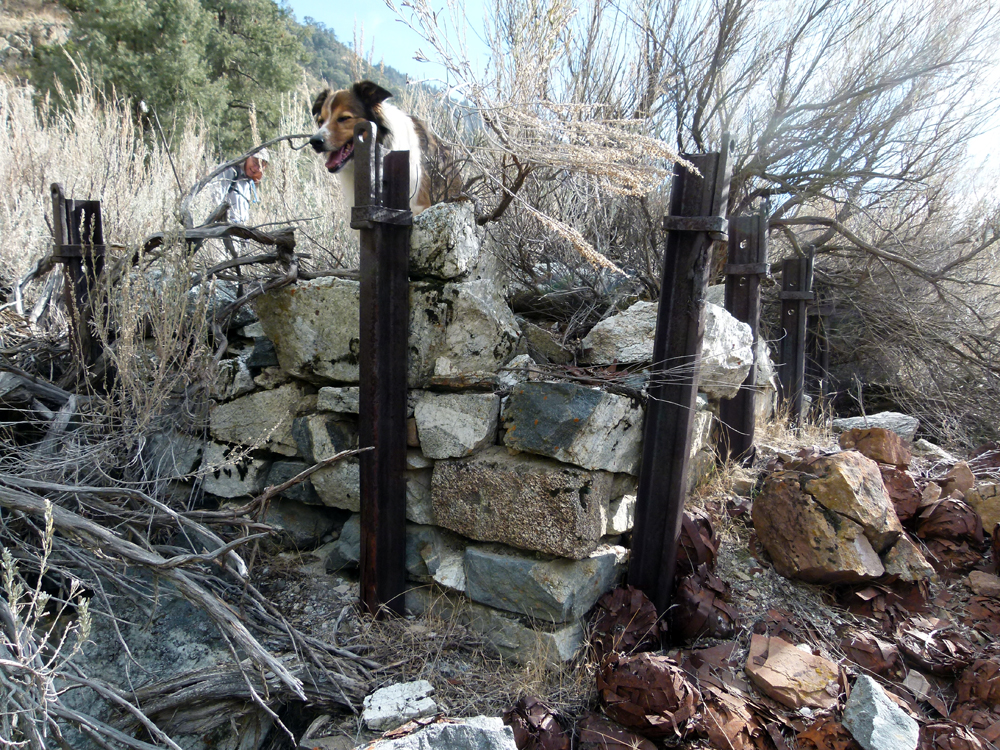 These smelters were built by Boushey & Co. which was a company headed by Stephen Boushey and his partners, E. J. Weston, and Francis Pliny Fisk (F. P. F.) Temple. They had a mining claim in this area sometime after 1872 and were said to have built these smelters about 1878. In April 1876, the Los Angeles Herald reported that this operation was producing three and a half tons of crude antimony per day which was sold in San Francisco.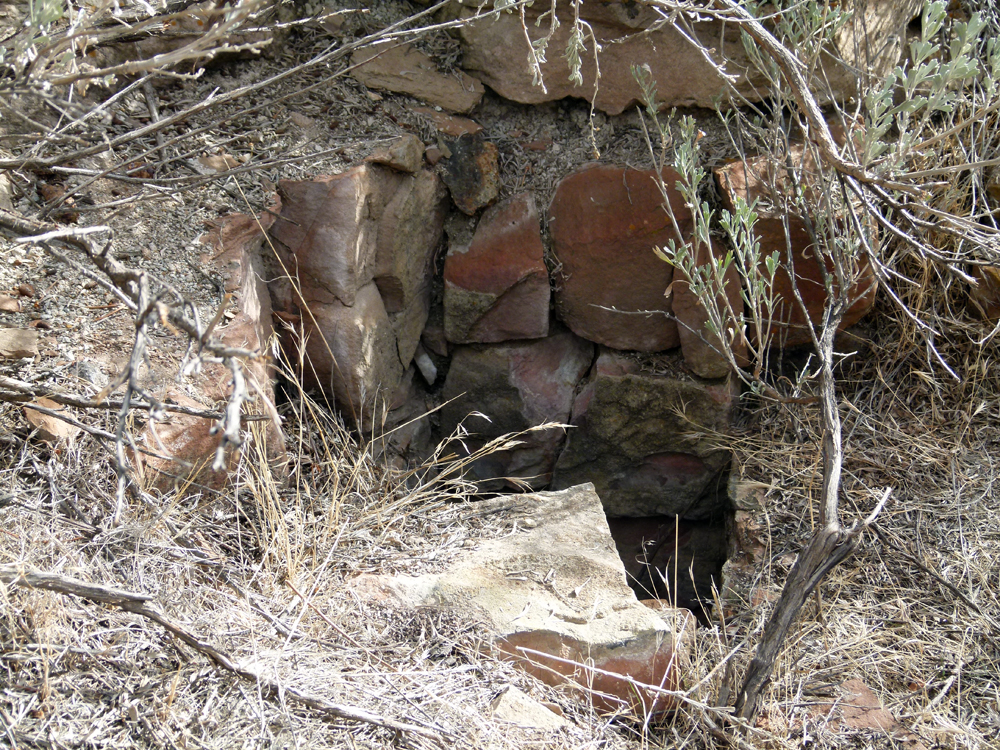 An old document claimed Boushey & Co. had taken over an earlier Spanish mine. That sparked my interest but I did not find any evidence to support this. Everything I saw at the smelter site fits with a post 1870s operation rather than something half a century earlier.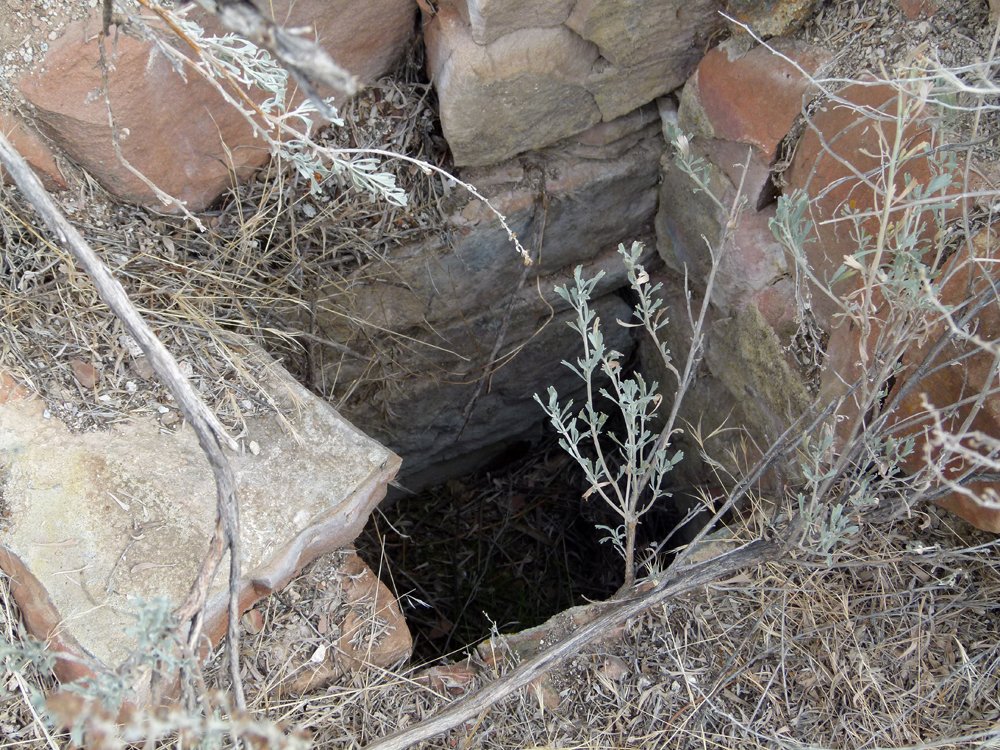 The first claims on Antimony Peak were filed in 1872. The following mining leases were granted in this area in 1872 (although I don't know which claims were owned by Boushey & Co):


Lot 37: Templito Quartz Mine
Lot 38: Clara Louisa Quartz Mine
Lot 39: Summit Quartz Mine
Lot 40: Whale Quartz Mine
Lot 41A: Padre Juan Quartz Mine
Lot 41B: Whale and Padre Juan Mill Site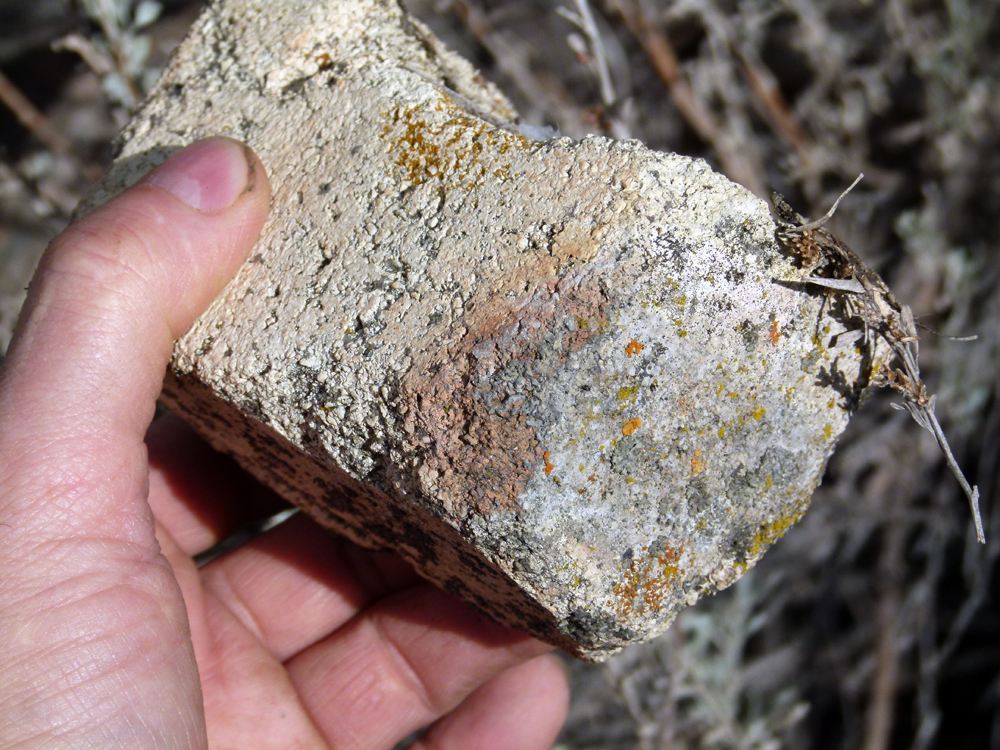 On closer inspection, I'm reasonably sure these are post 1870s smelters, and are indeed those built by Boushey & Co.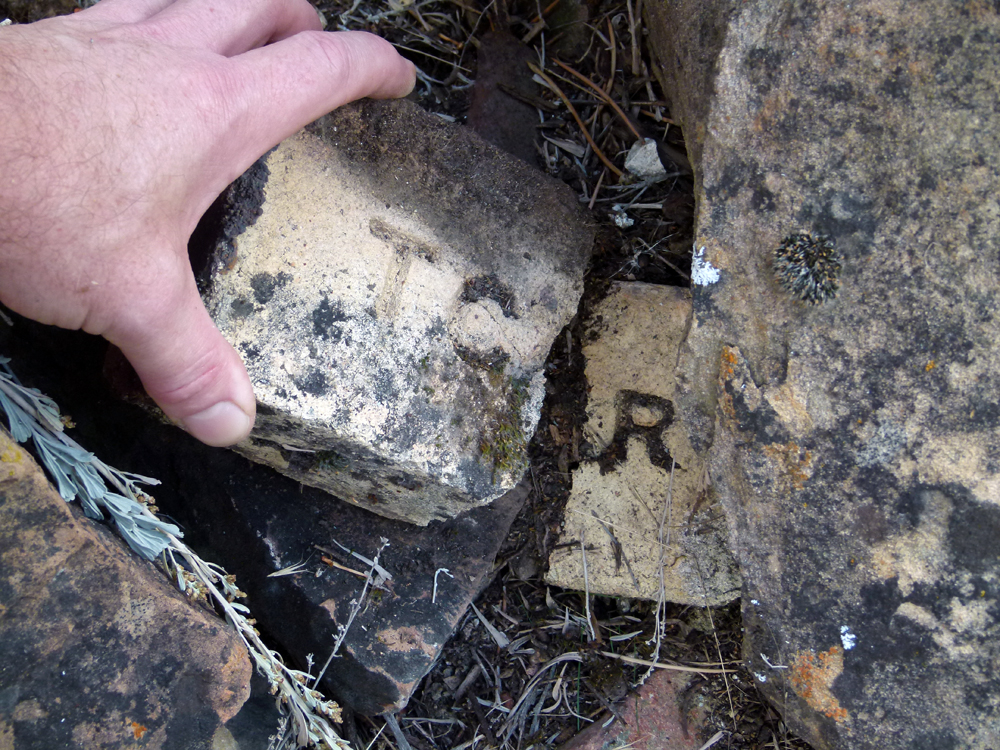 The materials that survive at this site were not available in an earlier 1820s time frame. This included steel railway track and manufactured fire bricks with letters moulded into them.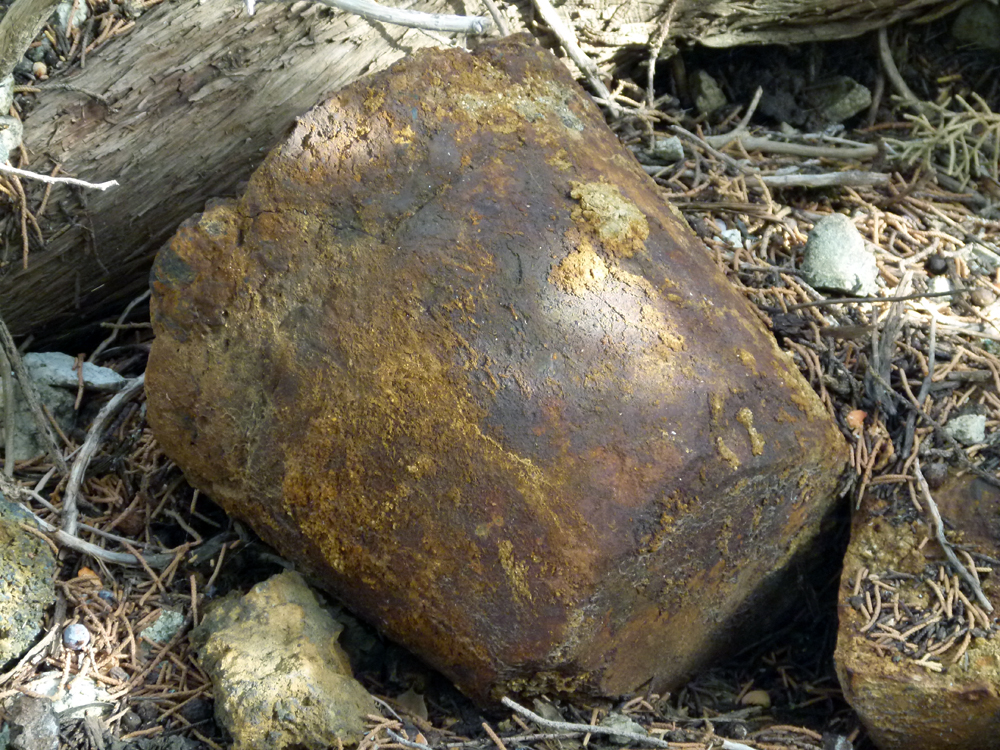 Discarded slag which was separated as a byproduct of the smelting process.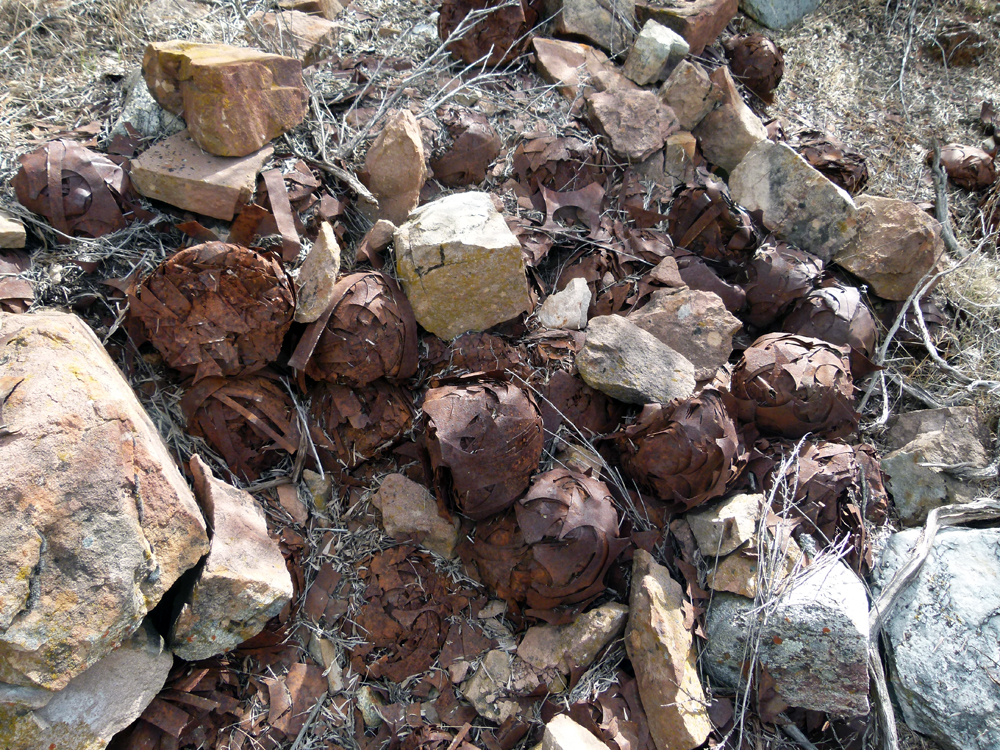 These rolled-up balls of scrap metal are strewn about the area near the smelters.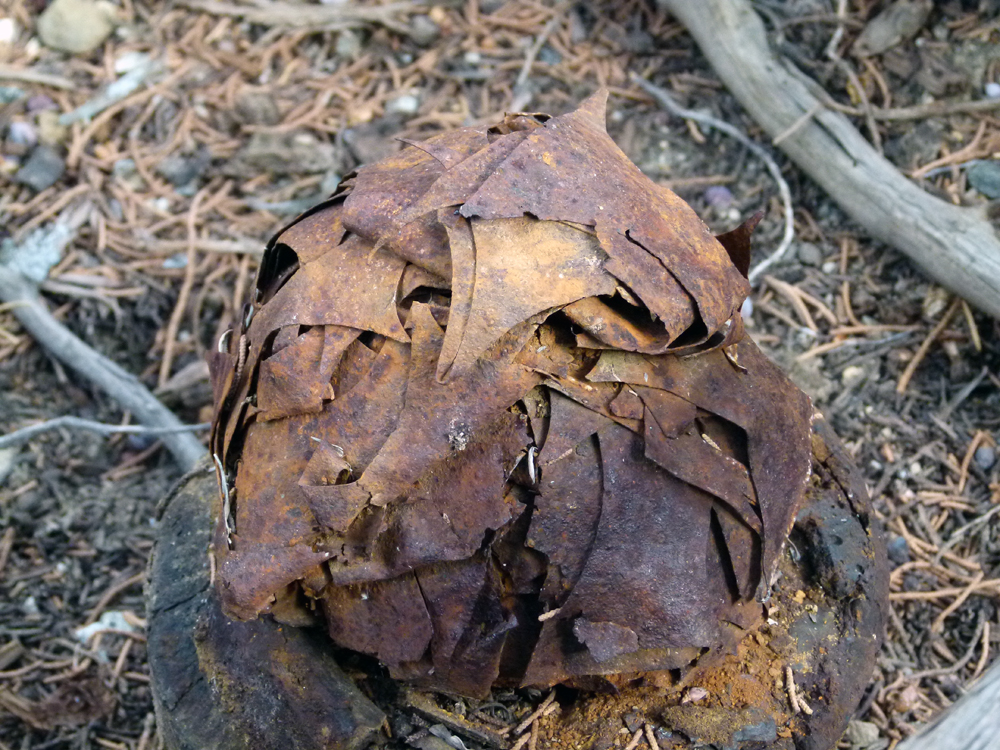 I assume the metal was used in the smelting process (perhaps as a catalyst?).
Antimony has many uses. It is used as a hardening agent in pewter and other alloys. For example, it is an ingredient in the alloy, babbet, used in making low-speed bearings and casings in early engines. It was also used to make the setable type face used in early printing presses. More recently, antimony is used in the electronics industry to make some semiconductor devices, such as infrared detectors and diodes. Antimony compounds are used to make flame-proofing materials, paints, and ceramic enamels. It is used in bullets, lead shot, and solder. A lead-antimony alloy is used in lead‑acid batteries (car batteries).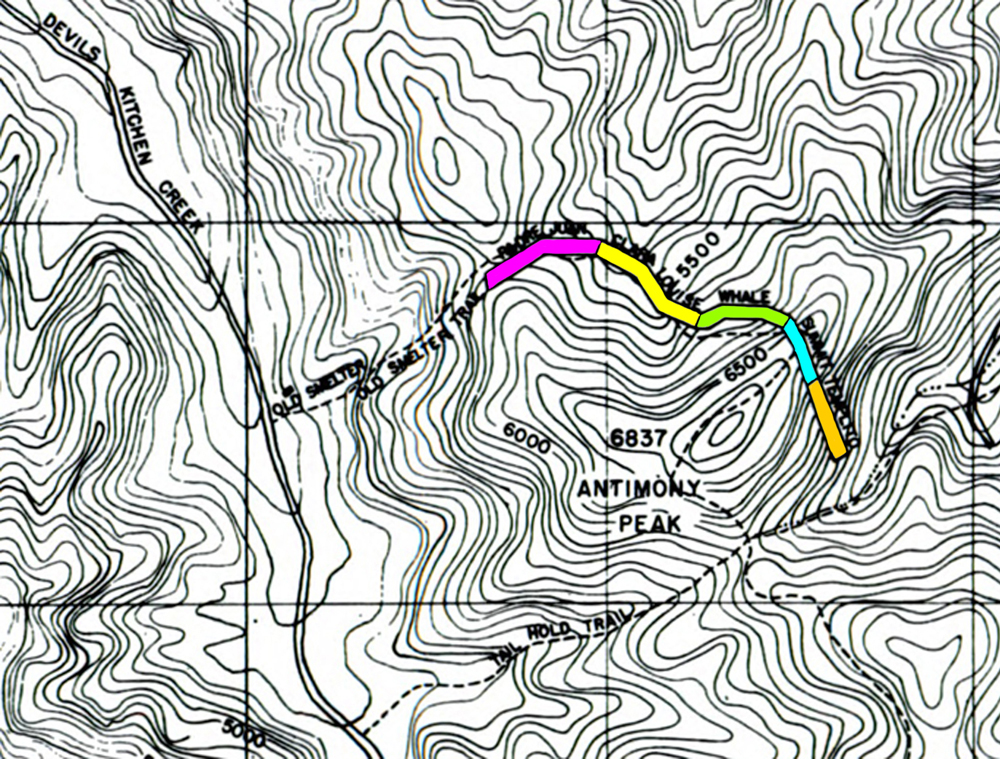 The GPS coordinates are 34 degrees 52' 48", –119 degrees 8' 6" as shown on the map.
Allow about an hour and a half each way for this hike starting from the edge of Pine Mountain Club (from the end of Nesthorn Way).

A HISTORICAL OVERVIEW:

It appears the San Emigdio antimony deposits were first worked by Indians as the source of pigment for making paintings which can still be seen on sandstone in the vicinity of Antimony Peak (Jermain and Ricker, 1949).

The San Buenaventura Mission operated an antimony mine in this area in the 1820s (documented).

During the American era, the deposits were rediscovered in 1853 by William Phipps Blake. Blake served as a geologist with the Pacific Railroad Survey of the Far West between 1853 and 1856. He later revisited the area in 1857 when he reported finding the remains of old smelting works.

The historical record tells us the first mining claims on Antimony Peak were filed in 1872. It appears that the first "modern" smelters were built there in 1878 although there is evidence of earlier smelters found in the area.

About 1878 the Boushey Brothers erected a small concentrating plant and smelter in San Emigdio Canyon and started mining the deposits located about 1.5 miles to the east. The animony was mostly in the form of stibnite (antimony sulfide) along with antimony oxides.

Sixty tons of metallic antimony was produced in 1882. Later, a new company named the Anglo-American Association is reported to have shipped several railway carloads of metallic antimony to New York during 1885 (Jermain and Ricker, 1949).

The Boushey company and Anglo-American Association, hauled their ore to the canyon floor with mules along a path that switched back and forth down the steep west side of Antimony Mountain (nicknamed the "Tailholt Trail"). Metallic antimony from the smelter was then hauled in wagons to Bakersfield and from there by railroad.

Intermittent mining continued until 1892 when the Kern County Land Company purchased the claims.

Since then, lessees have mined the deposit during two brief periods. In 1914, the price of antimony tripled to over 20 cents per pound, and mining and smelting operations were briefly resumed, apparently using the old Boushey smelters. This operation shipped five or six railway carloads of ore during World War I.

In 1941, Charles Fife mined and shipped about 5 tons of ore which contained 35 percent antimony.

In 1957-58, the Big Pine Mining Company mined about 3 tons of ore. It is estimated that no more than 600 tons of metallic antimony has been produced from the antimony mines since 1882.

The remains of the 1957 workings consist of a caved-in tunnel and a wooden structure that can be found by following a fading road about half a mile down the north side of the mountain. The demolished remnants of a cabin from the 1957 operations can be found in the flat area a few hundred yards north and east of the summit. The road that was carved out on the south side of the peak by the Big Pine Company in 1957, now overgrown and blocked in places by small slides, provides the most convenient way to climb Antimony Peak today.

Peter Gray
telephone: +1 (661) 242-1234