MESA SPRING NATIVE AMERICAN ROCK ART
(25 September 2004)
Well preserved Native American rock art can be found near Mesa Spring on the San Emigdio Mesa in the area known as the Chumash Wilderness. Mesa Spring is on the south-western slopes of Cerro Noroeste a.k.a. Mount Abel (7708 feet).
The National Forest endeavors to keep this place secret (not marked on maps etc.) to keep visitors there to an absolute minimum to help protect and preserve these rare artifacts. The location is near, but not at, Mesa Spring. It is not easily found.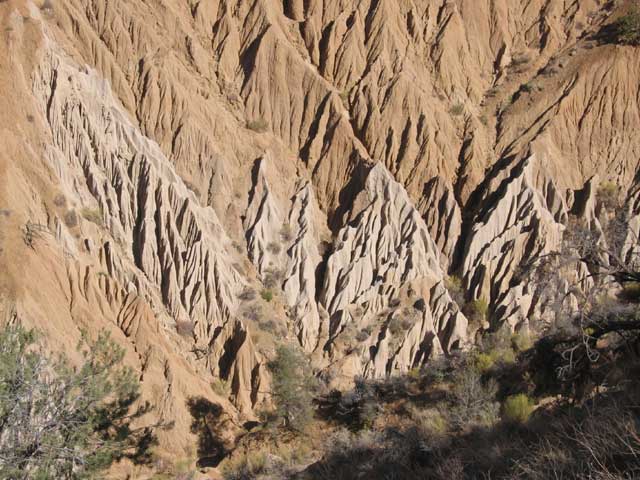 I know of four different approaches to Mesa Spring from four very different starting points. One of the approaches is via the rim of Apache Canyon as seen in this photo above.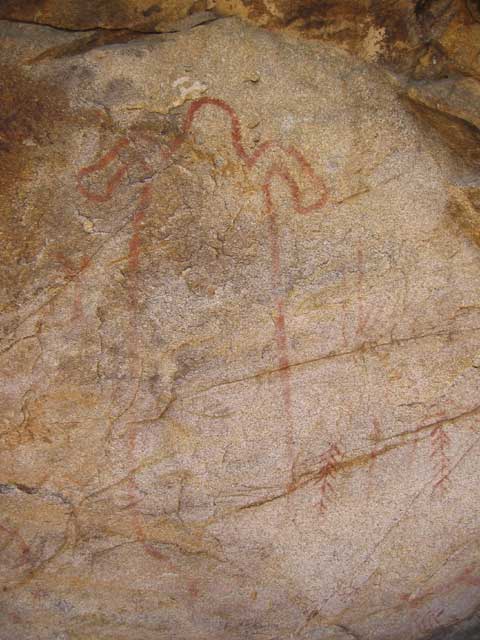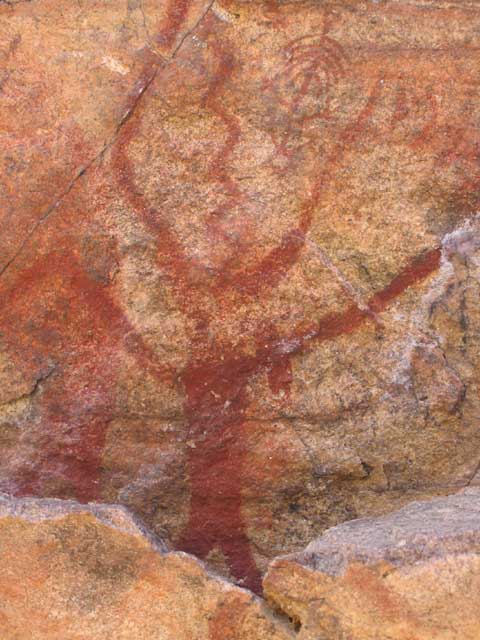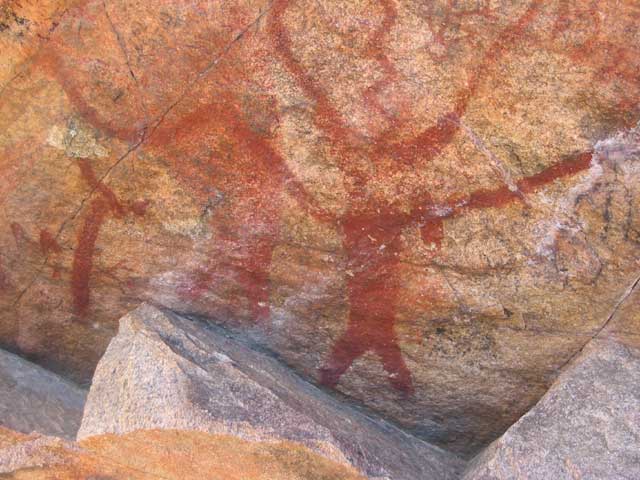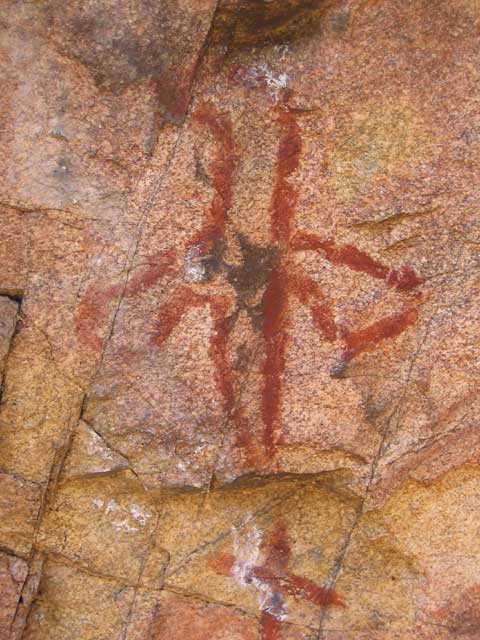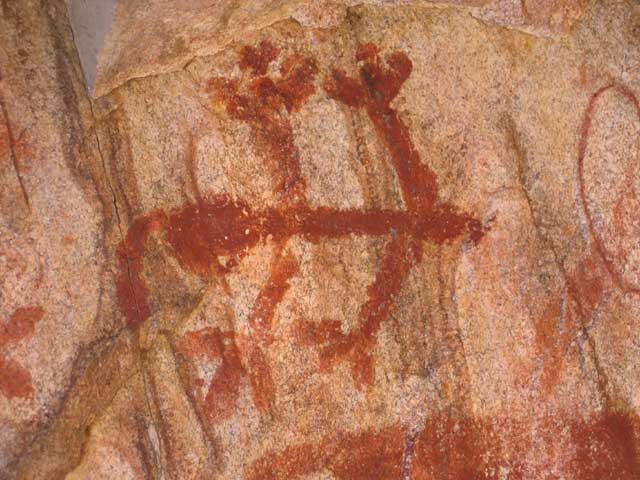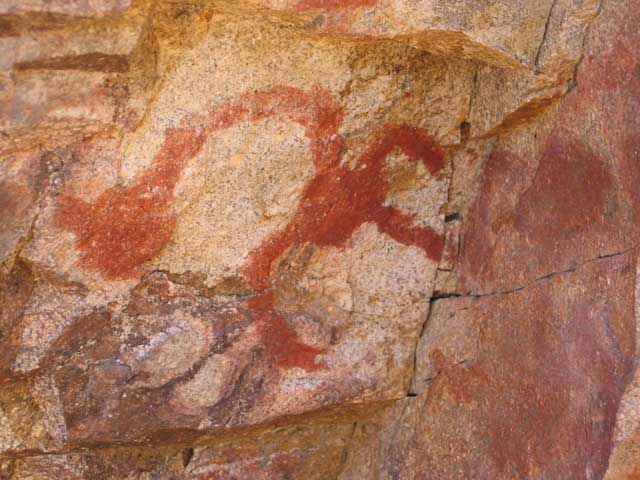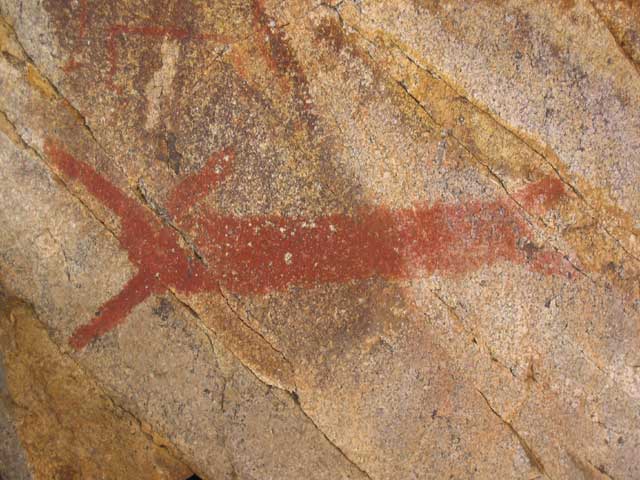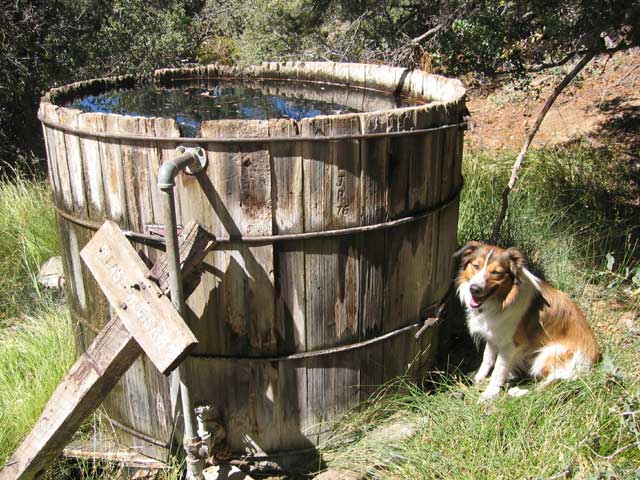 One of the prominent feature at Mesa Spring is this wooden water tank feed by seepage piped from a nearby bog.
WARNING: Giardia present in this water. Giardia are tiny, one-celled, protozoans, which are a parasitic life forms with the potential to cause illness and diarrhea, normally requiring medical treatment.
I was told there was a cattle ranch here (in the 1940's?) that developed the original spring (and this tank) before it was designated a National Forest, and subsequently a protected wilderness area named the Chumash Wilderness. The wilderness was created by the U.S. Congress in 1992 as part of the Los Padres Condor Range and River Protection Act.
The Chumash Wilderness is completely within the Los Padres National Forest, and includes most of the highest terrain in Ventura County. The wilderness spans 38,150 acres (154 km2), and extends from just west of the summit of Mount Pinos (8,831 ft/2,692 m) to Cerro Noroeste (Mount Abel) to the west, and south into the badlands north of Lockwood Valley Road.
Since Mount Pinos, Cerro Noroeste, and the Pine Mountain Club are developed with paved roads, they did not qualify for inclusion in the wilderness, which wraps partially around them. The highest point in the Chumash Wilderness is Sawmill Mountain, at 8,818 ft (2,688 m).
Vegetation within the wilderness includes chaparral at lower elevations, and conifers at higher elevations. Some of the badlands near the southern edge of the wilderness are almost barren of vegetation, and include steep slopes with knife-edge ridges.
Characteristic fauna of the wilderness include black bear, mountain lion, as well as the endangered California condor.

Peter Gray
telephone: +1 (661) 242-1234